Reach is more than just a CRM, it's a powerful Real Estate Management Tool. Designed by agents, for agents, we offer a full suite of features that include Listing and Transaction management, customer tracking and calendar management, commission tracking and goal-setting and a powerful Task management program. All this built into a lightweight app for your desktop and mobile devices.
Leads​
Leads are the Clients you are working with on a daily basis, the people you need to stay on top of to get your deals across the finish line. All information that is added to your Lead will stay with the contact. Here is a quick overview on what to expect in Leads:
Sort your Leads into Buyers & Sellers and then classify them as hot, warm, or cold. This will help you stay on top of all your active Clients and maintain good communication throughout the buying and selling process.

Get reminded the last time you contacted each Client

Quickly keep track of what your Lead is looking to buy or sell
Activity Card will track all your showing Events, Tasks, Touchpoints, Important Dates and Notes

Tasks​
Looking for a place to store all that stuff in your head? Tasks has you covered. It might seem like a straight forward feature, but we have added powerful features that will help you stay more organized and automated!
Add Tasks and attach them to specific Clients, Transactions, or Listings. These will be tracked in the Activity Cards associated with those.
Set due dates that will populate in the Calendar or have them automated to appear in your task list when they are due.
Working on a team or have an assistant? Once you are on a team in Reach, easily delegate tasks back and forth. You will be notified when you are delegated a task and when a task you delegated has been completed.
Task Templates make sure you never skip a beat. Task Templates can be checklists or routine tasks and set them to be automated by dates within Reach, such as a Subject Removal or a Client's Birthday. This takes the guess-work out of your routine processes.
Listings​
Keeping track of your Listings has never been easier. You will never forget another showing, garage code or detail about a Listing again.
Track all showings and meetings as Events so you can manage, monitor, and store your actions on each Listing.
Automatically inputs listing, expiry, and any booked events directly into your calendar and share across to Google/Outlook calendars.
Quickly launch an accepted offer that will then be easily tracked and managed in Transactions.
Categorize Listings by active and inactive so you can easily track Listings even if you have taken them off the market.
Send InfoPacks directly from your Listing page.
Send emails to agents that have shown your Listing, from the Listing page.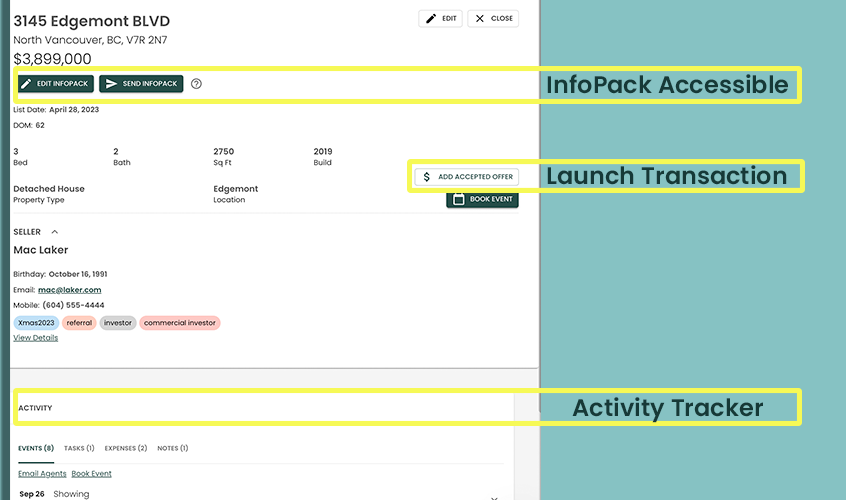 Transactions​
The place where deals flourish! Transactions gives you an easy way to move your sales through a clean sales pipeline. This feature will make sure you don't drop the ball at any point in the closing process, from subject removal to possession, Transactions will make sure you get it done.
Add accepted offers to buyer Leads and Listings
Attach Task Template lists throughout your transaction process to keep you organized.
Subject removal, completion, and possession dates will automatically populate in the calendar.
Track all Events and Tasks associated with a Transaction in the Activity Card.
History of all your completed deals for the year, and beyond.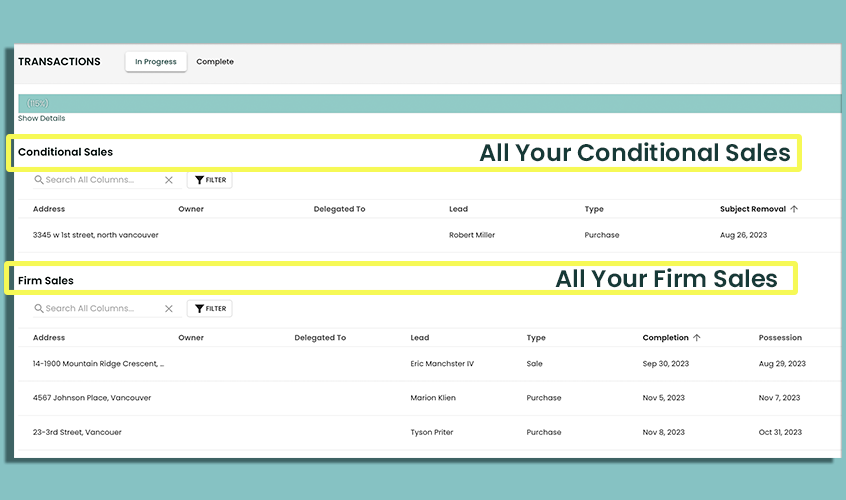 Calendar​
Your daily activities all in one place.
Link Calendar Events to Listings, Transactions, and Clients for easy activity tracking.
Add team members to Events that they need to attend.
Set email or device notifications for all upcoming Events.
Important Dates such as birthdays and home anniversaries automatically populate the calendar.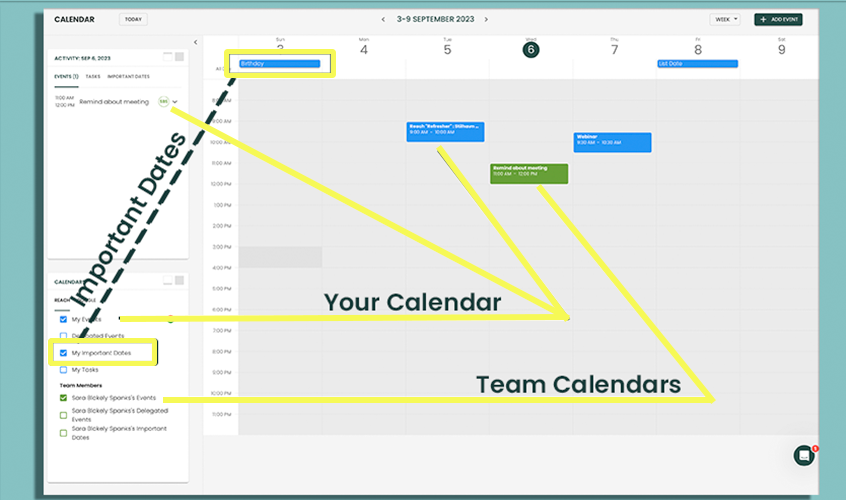 Contacts​
The master list! Contacts are divided into Clients and Agents. All your Leads or Listings will start with Clients, it is the fuel behind Reach.
Easily import all of your Contacts through our Custom CSV file import system. This lets you easily map your spreadsheet headings to Reach CRM. Or use our Google Contact import feature (if your contacts are already in Google).
Manage all of your Clients, even when they are not active with important date reminders.
Link multiple Clients together in 2 ways:

Grouping - Grouping lets you create groups of contacts under one heading, such as "Mr. & Mrs. Smith" or "The Smiths"
Relationships - Relationships lets you specify a named relationship between two Contacts (e.g. "Spouse", "Mortgage Broker", "Lawyer", etc).

Search "tags" or other searchable columns to select various contacts and mass email them all together with our "Mass Email" feature.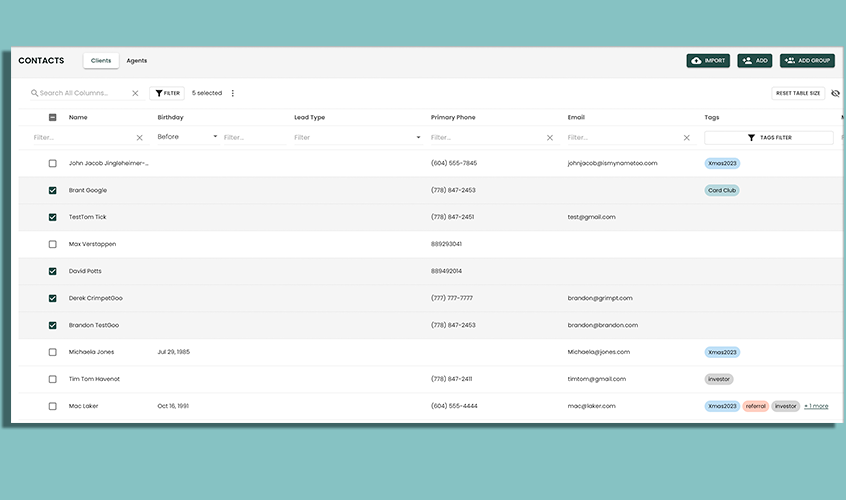 Search​
You can find all of your data in Reach quickly using the Search bar. Simply start typing a name, an address, the name of a task or event, etc and all results will be shown to you.
On Desktop, the Search bar is located in the top right corner of the application. On Mobile, it is accessible through the side menu.