📽 VIDEO: Create, Manage, and Send InfoPacks
The Reach InfoPack™ is an easy way to share all of the important information about your Listing with Selling Agents. Easily communicate property details, suite included items, tenant information, strata documents and more!
Create / Edit an InfoPack™​
Reach will automatically create an InfoPack for any Listing that you have in your account. Some of the Listing information is pre-populated added automatically (e.g. address, price, bedrooms, bathrooms, sqft, location, property type). From there, you can edit and update as much information as you prefer. Remember the more information you provide, the less hassle and phone calls you get from Selling Agents!
In the sidebar, click on Settings
Select a Listing to open its details
Click the "Edit InfoPack" button
Follow the menu on the left to input all the correct information. Any fields left blank will not appear in the InfoPack.
Click Save to save your changes
Add a Listing Image to an InfoPack™​
When editing an InfoPack, go to the "Images" section to add a Listing Image.
Import and attach an image of the Listing you wish to display in the header of the InfoPack. This image will also appear in the body of the email that is sent out (if sending via Reach email). You can use the crop tool to make any changes before saving your image. For best results, try and upload an image less than 5MB in size.
note
Because InfoPacks need to be displayed on various screen sizes, the entire Listing image may not be shown.
Upload Documents​
When editing an InfoPack, go to the "Documents" section to upload documents.
info
Only PDF Attachments are currently supported
Reach offers users its own document storage and sharing for InfoPack. Upload all your important strata documents, title documents or anything you need to share with prospective Buyers or their agents. You can categorize your documents into as many custom categories as you wish.
tip
Save early and save often!
Follow the instructions below to upload documents:
By default, your first category is called "General". You can change this name at any time by editing the "Category Name" field
Click Upload Documents and select what documents to upload.
Reach supports multiple file uploading, so you can select multiple files for a category folder, and upload.
Click +Add Category to create an additional category.
Click on the "New Category" tab to rename the category to something more descriptive
You can optionally add a friendly description for each file that is uploaded. Descriptions are helpful if the filename is cryptic and hard to understand. If no file name is entered, Reach will automatically assign the file name as the description.
When finished, click Save.
Anyone who receives an InfoPack is able to view associated documents in their browser, as well as "Download All" into a folder on their desktop or mobile device.
Agent & Brokerage Info​
When editing an InfoPack, go to the "Agent Info" section to edit your shared information.
info
Editing Information in the Agent Info section is only available for the owner of the InfoPack (i.e. the owner of the Listing)
Here you can input all your Agent Information and Brokerage Information, including images and logos. This information will be saved and appear in all your current and future InfoPacks. So no need to upload each time.
Additionally, we have included an area for any disclaimer that may be required by you, your brokerage or your real estate governing body. You can enter any info here and it will appear at the bottom of all your InfoPacks.
Preview InfoPack​
While editing your InfoPack, you can preview it at any time while editing your InfoPack by selecting "Save + Open Preview" along the bottom right. This will open up in preview mode. Simply select "Close preview" in the corners to return to the edit screen.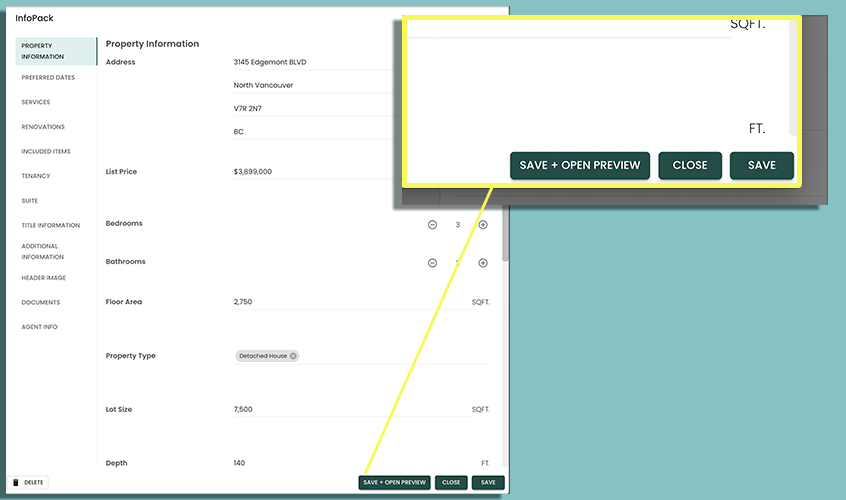 Send InfoPack​
Reach users have a few different options to send out InfoPacks: specifying emails, selecting from a list of Agents, or copying the direct link
Specify Manual Emails​
To have Reach send a formatted email that contains a some basic information, your property image, and a link to the InfoPack, follow the following steps;
When viewing a Listing's details, select "Send InfoPack"
Select the option "Let me manually type the email address"
Begin typing an email address. You can specify multiple by separating with a comma
Click "Send"
Select Agents​
This feature brings in all the Buyer Agents that you have attached to each "Book Event" on your Listing. If you have entered in the email address, it will appear next to the name. To update agent information, go to Contacts > Agents, or click the "Add Email" link.
When viewing a Listing's details, select "Send InfoPack"
Select the option "I will pick from my list of Agents" This will populate a list of agents that you have booked showings/events for in this Listing.
Select the Agents from your showings you wish to send an InfoPack email to.
Any other Agents you wish you send an InfoPack to can be added via the "Other Agents" text area below the list of showing Agents
Click Send.
Sending Yourself​
Sometimes you may want to share a link in an email you've already pre-written or a text message thread with an agent. Reach lets you quickly copy/paste into that format.
When viewing a Listing's details, select "Send InfoPack"
Select the option "Just give me the link" and 3 options will prompt: a) Copy Link – This link can be copied to your clipboard and pasted in a text message or email, whichever you prefer. b) Open in New Email – This will launch your default email program and pre-populate a quick message with the link to the InfoPack. c) Open in New Text Message – This will launch your mobile phone text message program, and pre-populate a message with the link, making it quick and easy to send InfoPack over text message.
info
When sending the link yourself, Reach will not be able to show the history of who you have sent the InfoPack to.
Send When Booking Event​
There is an additional way that you can send an InfoPack upon booking an event (e.g. a Listing Showing). You may want to automatically email each Buyers Agent an InfoPack ahead of time to ensure they have read all the important information before viewing the home. We find Buyer's Agents and Buyers come to the property more educated this way.
In the Listing, select Book Event
Select Listing Showing and complete all the relevant information for the Event.
Select Add Buyer's Agent and input that agent's Name, Email, Telephone and Brokerage.
Click the box Email InfoPack when I save this Showing and click Save. Reach will confirm the InfoPack was sent after a few seconds.